Valuable feedback for a better guest experience
Use this template to ask your guests about their experiences in your restaurant. These survey questions will give you the data you need to make informed changes and improve the overall dining experience.
---
What does this survey template include?
A downloadable, customizable restaurant survey template

Instructions on how to write your restaurant survey template

Example questions in different categories for you to choose from

A section to add your logo and branding to the survey

Suggestions, notes, and recommendations on restaurant survey best practices
---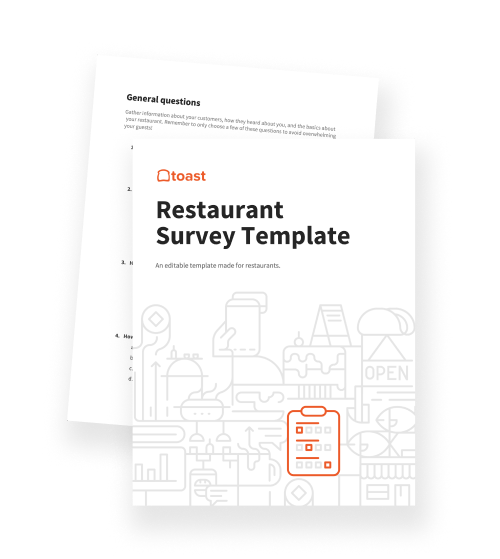 Looking to get the most valuable feedback from your guests? We've got you covered.
As hard as you may try, you cannot fully understand what your customers' experiences are like in your restaurant. What they notice, appreciate, and feel during their dining experience is unique to them. What you can do, however, is ask about their experiences to understand them better. This is where a restaurant survey comes in handy.
This restaurant survey template will help you gain feedback in order to improve your restaurant operations – and the overall guest dining experience. The template includes questions covering different facets of your business:
General questions about the customer

Facilities questions

Food and drink questions

Service questions

Tech questions
The template provides a wide range of questions to choose from in each category. This way, you can ask what matters the most to your restaurant's unique needs.
Show your guests how much you value their feedback
Sending out a restaurant survey will show guests how much you value their feedback and make their experiences in your restaurant even better. Start listening to your customers today.
After downloading the free Restaurant Survey Template, be sure to check out our other resources below.
Restaurant Survey Questions for Guest Feedback
Use Negative Feedback to Create Positive Change in Your Restaurant
How to Ask the Right Questions on Your Restaurant's Comment Cards
How to Keep Your Cool with a Rude Customer