Want happier guests and more organized staff? Try this.
A template to help your host keep track of walk-ins and provide estimated wait times, keeping guests happy and staff organized.
---
What's inside?
Two downloadable PDF files — one horizontal and one vertical — to print and keep at your restaurant host stand in order to manage your guest waitlist
---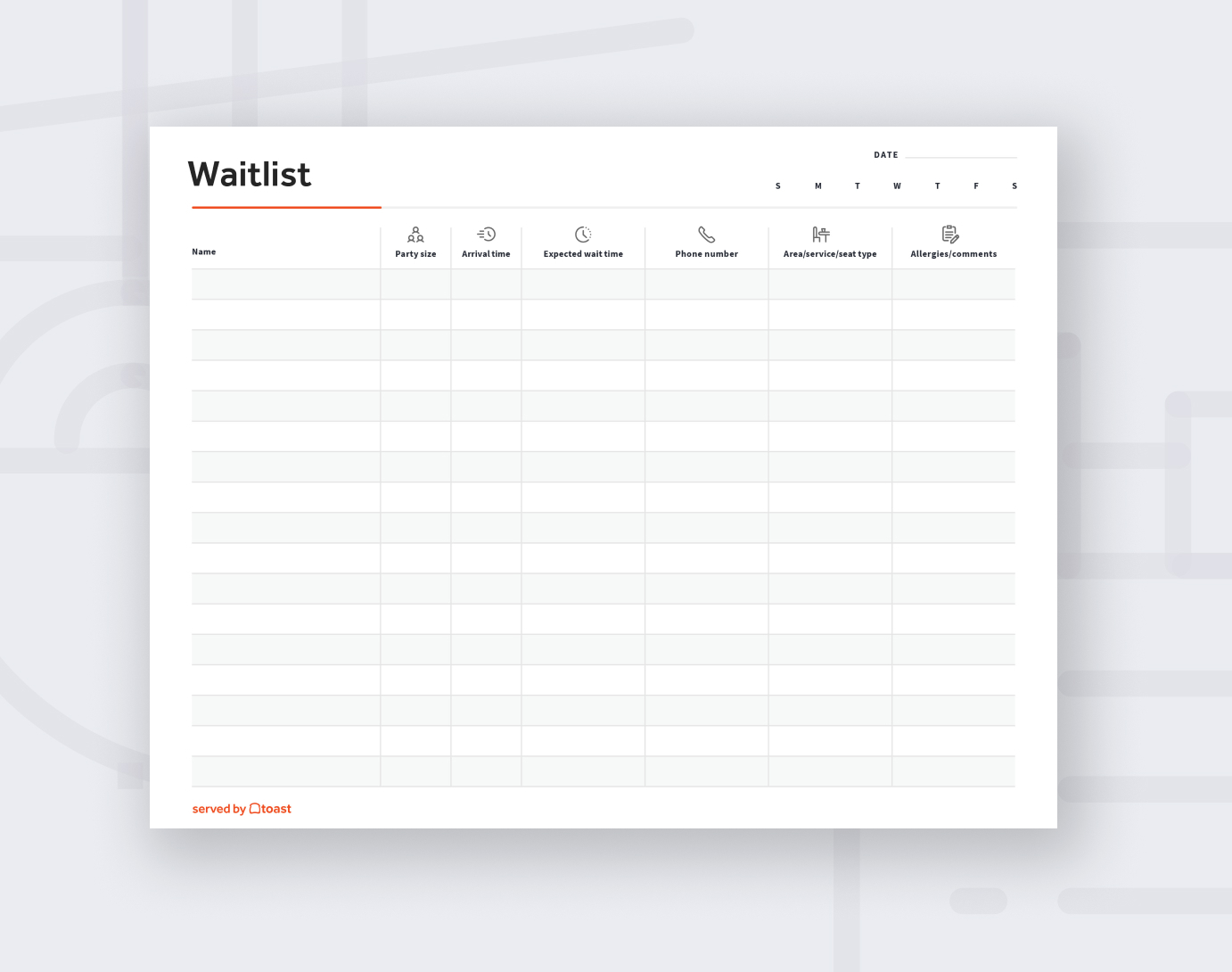 The benefits of restaurant waitlist management

Restaurant waitlist management is essential for ensuring a smooth dining experience for guests and optimizing table turnover for the restaurant. By implementing a waitlist strategy, you can:
Reduce wait times by estimating wait times accurately, reducing customer frustration, and helping them make informed decisions about how long they're willing to wait.


Maximize table turnover by seating customers efficiently, increasing the number of guests served and the overall revenue generated.


Enhance the guest experience by making guests feel valued and taken care of, even when there is a wait.


Improve communication within your staff and with guests, reducing misunderstandings and improving overall efficiency.


Retain customers by building customer loyalty and encouraging repeat business.

How to use a restaurant waitlist template

With this free template, we've created a waitlist template for you to simply print out and fill in as guests enter your restaurant. This restaurant waitlist template includes columns for information such as name, party size, arrival time, phone number, allergens, and more — making it an easy tool for your host to collect information from guests and manage your restaurant waitlist.

Get the power of Toast, for your host

While paper waitlists can get the job done, your restaurant — and your staff — deserve better. Toast Tables is your one-stop, integrated waitlist & reservation solution — built to enhance hospitality, simplify table management, and keep guests coming back.



---

After downloading the free Restaurant Waitlist Template, be sure to check out our other resources below.