Article
Drive Repeat Visits to Your Quick Service Concept with Restaurant Loyalty Program Software
Quick-service restaurants are all about low price points, fast service, and repeat visits. Learn how loyalty program software can be key to driving returning guests.
As a quick-service restaurant owner, you know that getting guests to come back time and time again is pivotal to staying afloat. While you may be able to acquire new customers via third-party online ordering platforms and online marketing tactics, most of your revenue is likely coming in from the same set of regulars who your staff knows by name.
So, how do you increase your pool of regulars? What can you do to entice the passive guest to become an active one?
First, what is a quick-service restaurant?
A quick-service restaurant, also referred to as a QSR, is a restaurant that does not offer table service and serves up meals at a fast pace. While the term QSR historically referred to fast food restaurants, the introduction of the fast-casual concept — which serves healthier meal options but with the speed of a fast food restaurant — broadened the scope of what being a quick-service restaurant really means. Today, we use the term quick service to describe any restaurant that does exactly what the name implies: offers food with quick customer service.
Running a QSR means you have limited opportunities to engage with customers in the way a full-service, sit-down restaurant may. However, implementing a loyalty program is a great tactic to retain guests and keep them coming back.
And what is a restaurant loyalty program?
A restaurant loyalty program incentivizes repeat guests by allotting points per transaction amount or visit cadence that can then be used to claim rewards such as free menu items, discounted order totals, and more. In other words, a restaurant loyalty program helps you bring guests back by rewarding them for visiting your restaurant.
Do restaurant loyalty programs actually work?
Yes. Next question!
Seriously though, loyalty programs have a huge impact on customer retention. The reality of running a business is that it costs five times as much to attract a new customer than to keep an existing one. This makes customer retention a huge opportunity for restaurants looking to improve their bottom line. A study by Invesp also found that increasing customer retention rates by 5% increases profits by 25-95%. Overall, it's clear to see that an existing guest provides more value to your restaurant than a new one.
Plus, guests who join your loyalty program often visit and spend more. On average, restaurants see additional sales and more repeat visits from guests in a loyalty program. We took real sales data from Toast restaurants and created a simple restaurant loyalty program ROI calculator that you can use to figure out your sales boost.
How to implement a loyalty program for your QSR
1. Choose which type of loyalty program to use
First, it's important to decide the best fit for your restaurant.
For example, there is always the option to take the old-fashioned route: punch cards. Punch cards are physical cards, typically around the size of a business card, that the guest brings in for each visit to have "punched" by the staff to account for their purchase. After the punch card has been fully completed, the guest receives some sort of reward — typically a free beverage or discounted item.
While punch cards were the standard for loyalty programs for years, they have become a bit obsolete. Especially in cases where guests are paying contactless via their smartphones, having to pull a physical card out of their wallet to receive a reward is more of a burden than a gift. Plus, with punch cards there is always a risk of losing the card, having guests cheat their way to a reward, or having several cards being completed simultaneously. It's more work for both your staff and your guests.
A great alternative to loyalty punch cards is to use a digital loyalty program, such as Toast Loyalty. Toast Loyalty is a simple, integrated rewards program that allows restauranteurs to delight their guests with a seamless and flexible system. It's credit card-linked, which means no need to enter an email address or phone number every time your guest makes a purchase. Instead, guests simply swipe their card, opt into the rewards program, and start earning points.
2. Determine a reward structure
Whether you opt for a physical loyalty card or a cloud-based credit card-linked program, it's important to set the ground rules for how guests will earn points.
Should they get a stamp or punch every time they place an order? How many points does each menu item or purchase earn a guest for your digital loyalty program?
For example, Blackbird Cafe uses Toast Loyalty to give their guests one point for every $1 spent. After the guest reaches 100 points, they receive a $5 discount.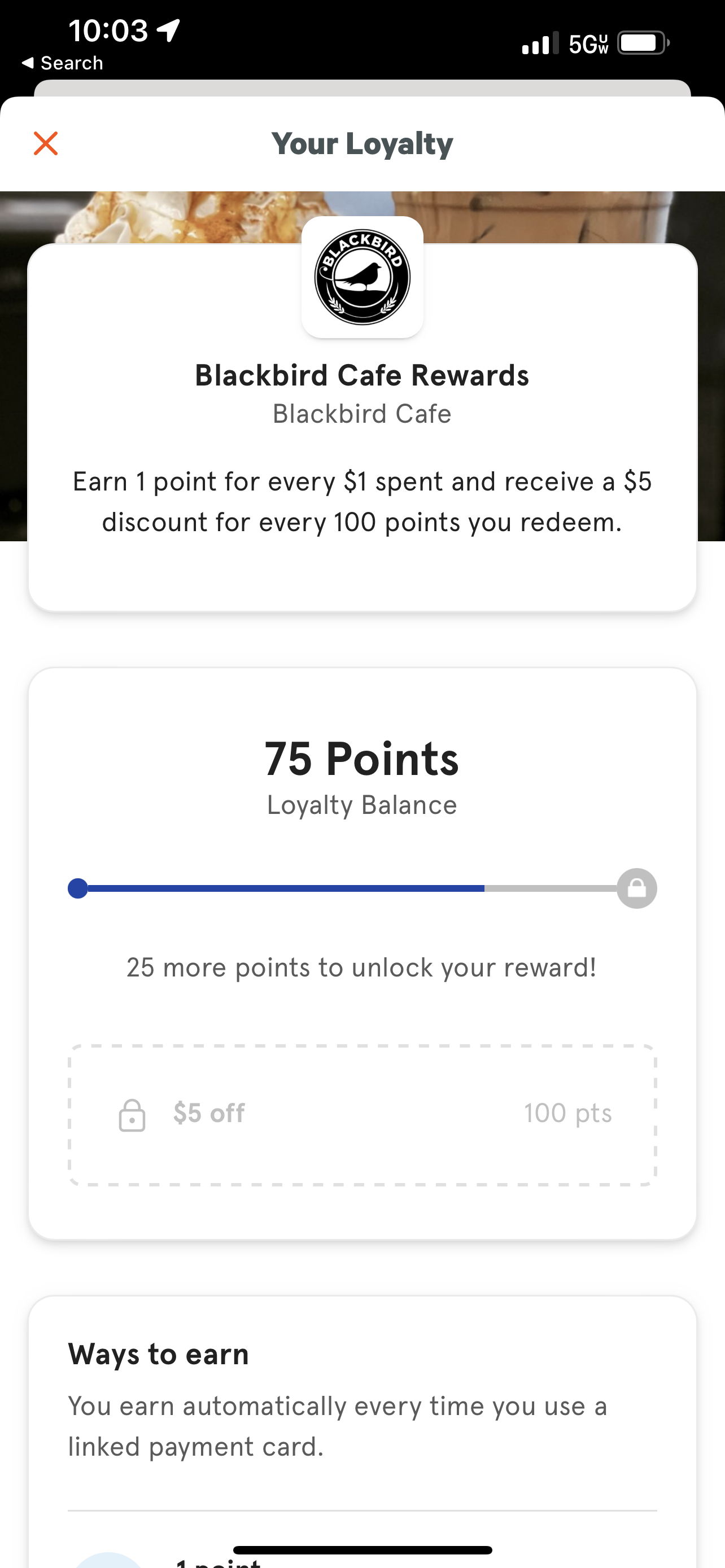 With Toast Loyalty, you can also customize sign-up bonuses, set accrual and redemption rates, and offer birthday rewards. It's a fully customizable program to match the uniqueness of your restaurant.
Making sure that your guests are aware of the reward structure will help avoid any surprises.
3. Make sure your guests know about your loyalty program
Much like the (silent?) tree that falls in the woods when no one is around, what's the point of a loyalty program if no one knows about it?
Whether it's a printed sign in your restaurant, a friendly reminder from staff when a guest places an order, or sharing information on the program to your social media accounts, it's important to make sure guests know about the benefits of your loyalty program and how to sign up.
Green Beans Coffee in Omaha, NE took to Twitter to share the news about their loyalty program:
Visit https://t.co/FqnzIMPdPx, click Menus > Millard Menus > Order Online, OR go directly to https://t.co/jpT3jeHkk6

Use the site or download the Toast Takeoutapp for all your takeout/delivery needs. Earn rewards with Toast Loyalty and use your Coffee/Gift Card for payment. pic.twitter.com/lDDt4Zuhf4

— Green Beans Coffee Omaha (@GBCOmaha) September 24, 2021
If you are making the switch from one loyalty program to another, it's also important to let your guests know what will happen to their previously accrued points or rewards. The Electric Brew, a two-location coffee shop in Indiana, made the switch from FiveStar to Toast Loyalty back in 2020 and shared an in-depth Facebook post to let their followers know how points would be transferred and what to expect after the change.
Once your guests start seeing the impacts of their repeat visits, effectively gamifying the dining experience, they'll be more likely to come back again soon.
Start reaping the rewards of higher guest retention
A digital, credit card-linked restaurant loyalty program like Toast Loyalty will help you delight your guests with a loyalty program that just works. With easy rewards points lookup for guests and loyalty reporting for restaurant owners, everyone can see a clear picture of where they stand. And, when used alongside Toast Email Marketing, you can run targeted promotions to your most loyal guests to see even more of an impact.
Ready to get started with Toast Loyalty? If you are already a Toast customer, you can add Toast Loyalty to your account via Toast Shop. Looking to switch to Toast POS from your current POS provider, or implement Toast for your brand new restaurant? Request a demo today.
Related resources
RESOURCE
Find the right POS for your restaurant's unique needs
We'll handle your info according to our privacy statement.
DISCLAIMER: This information is provided for general informational purposes only, and publication does not constitute an endorsement. Toast does not warrant the accuracy or completeness of any information, text, graphics, links, or other items contained within this content. Toast does not guarantee you will achieve any specific results if you follow any advice herein. It may be advisable for you to consult with a professional such as a lawyer, accountant, or business advisor for advice specific to your situation.