Grow your takeout and delivery sales
Take control with commission-free takeout and delivery designed to help you increase sales, save money, and turn first time guests into regulars.
Get a Demo
See how our Digital Ordering Suite helped Trapper's Sushi save $25k in third-party commissions.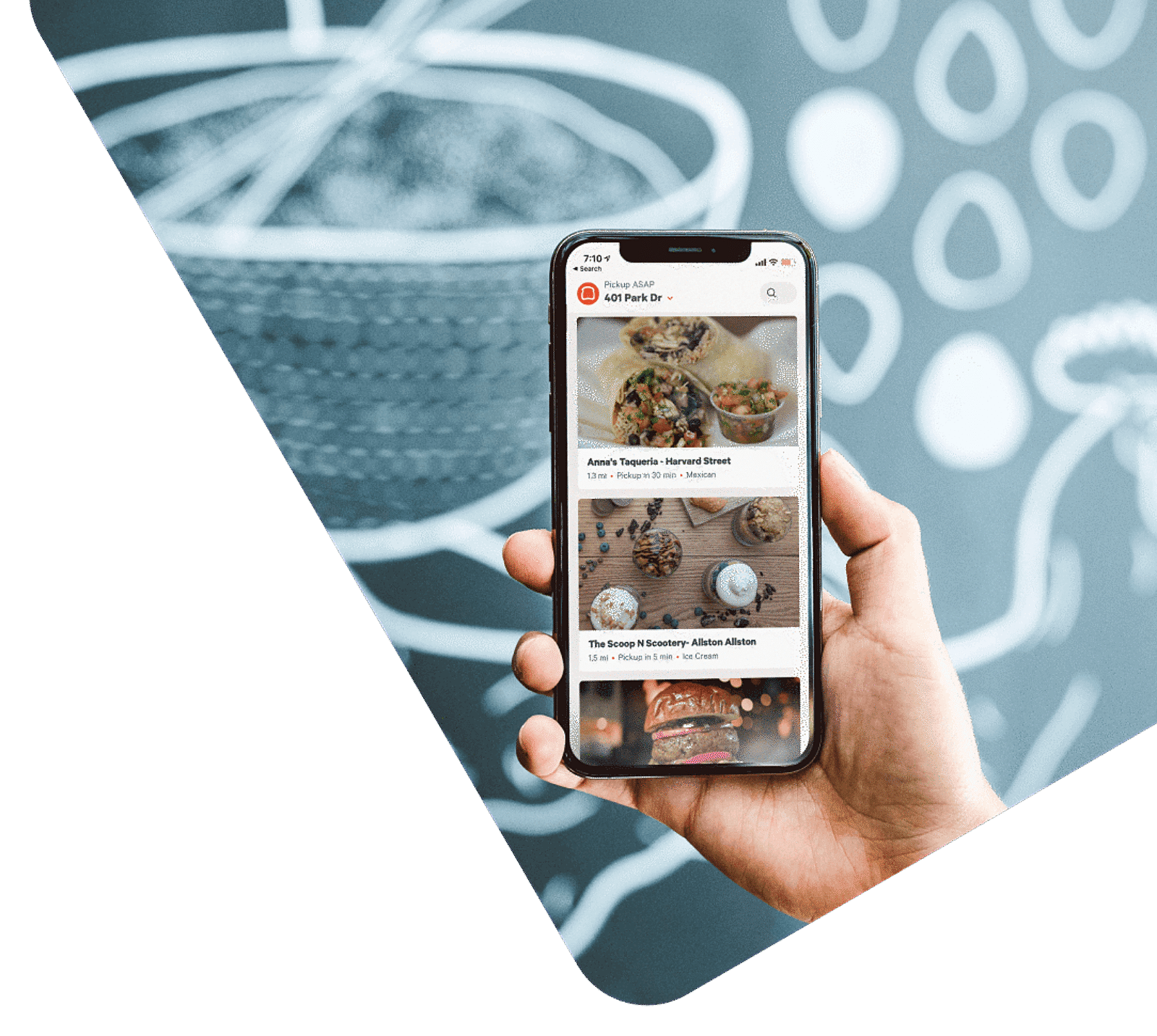 Save money on third party fees with integrated ordering channels that are commission-free
On average, restaurants can save up to $36,000 a year in commissions* by switching to Toast Online Ordering.
Explore Solutions
*Based on average monthly Online Ordering volume, assuming that customers pay 30% commission on third party ordering channels and switch all digital ordering volume to Toast.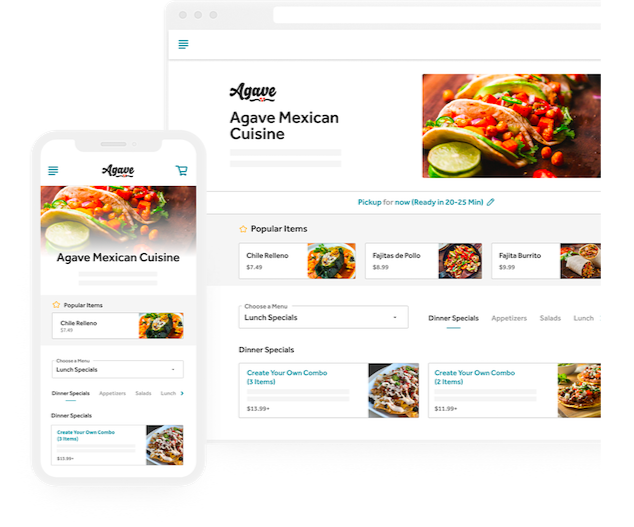 Turn first time guests into regulars with tools that are designed to upsell your guests and keep them coming back
Get discovered with search engine optimized menus and customizable item, delivery, and order based promotions.

Showcase your brand with custom font, color, and images to reflect your brand and let your guests know it's the restaurant they love.

Control your ordering flow during peak times, throttle orders, and fire them directly to your kitchen.

Grow your guest list to power your loyalty program and always-on marketing campaigns designed by restaurant experts.

Looking to elevate your brand even more? Upgrade to Online Ordering Pro, a solution that's embedded directly on your website so you can attract more guests and keep them on your site from first click to order.
Learn More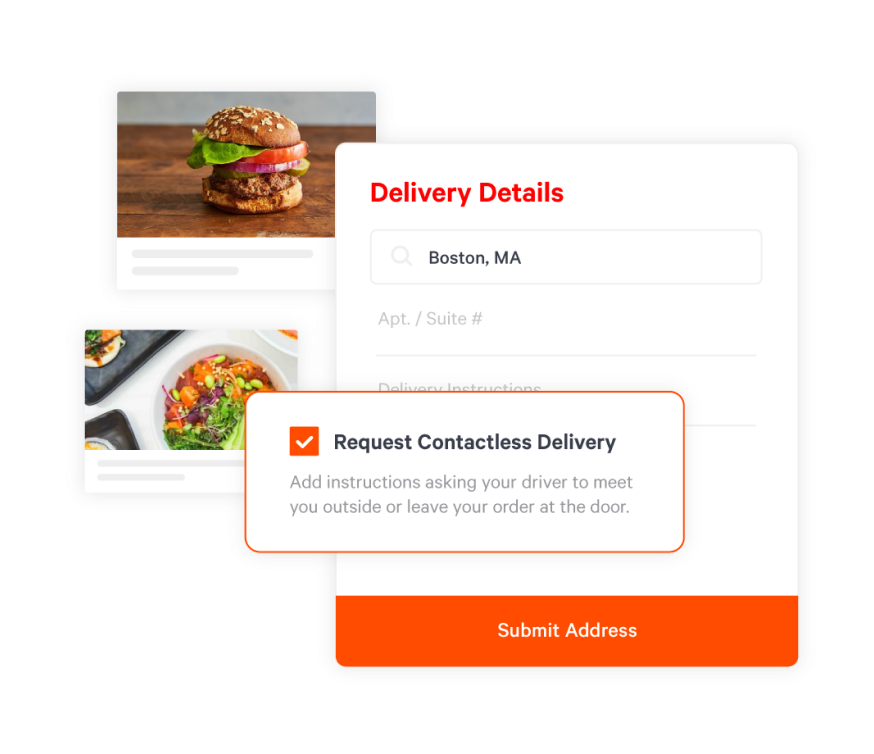 Access flat-rate delivery through Toast Delivery Services to save money on 3rd party commissions.
Help maintain your margins by paying a flat fee per order and adjusting how much of it you pass to guests.

Designed to boost sales and drive repeat visits - Toast helps you organize and use your guest data.

Allow guests to schedule and track orders.

Send orders directly to your kitchen and throttle them during peak times.
Learn More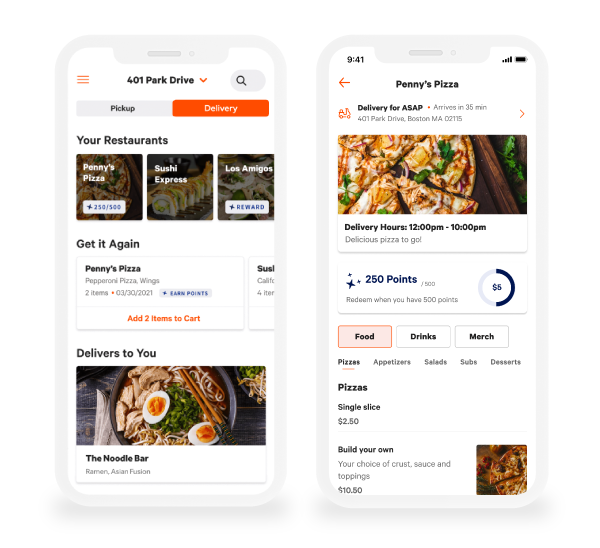 Get listed on the commission-free Toast TakeOut app and access a growing network of hungry guests
Give regulars an easy way to reorder the food they love.

Reward your regulars with integrated Toast Loyalty.

Built to increase your sales by gaining access to millions of potential guests.

Guests can conveniently order across any iOS and Android devices.

Keep guests up to date with automated push notifications about their orders status.
Learn More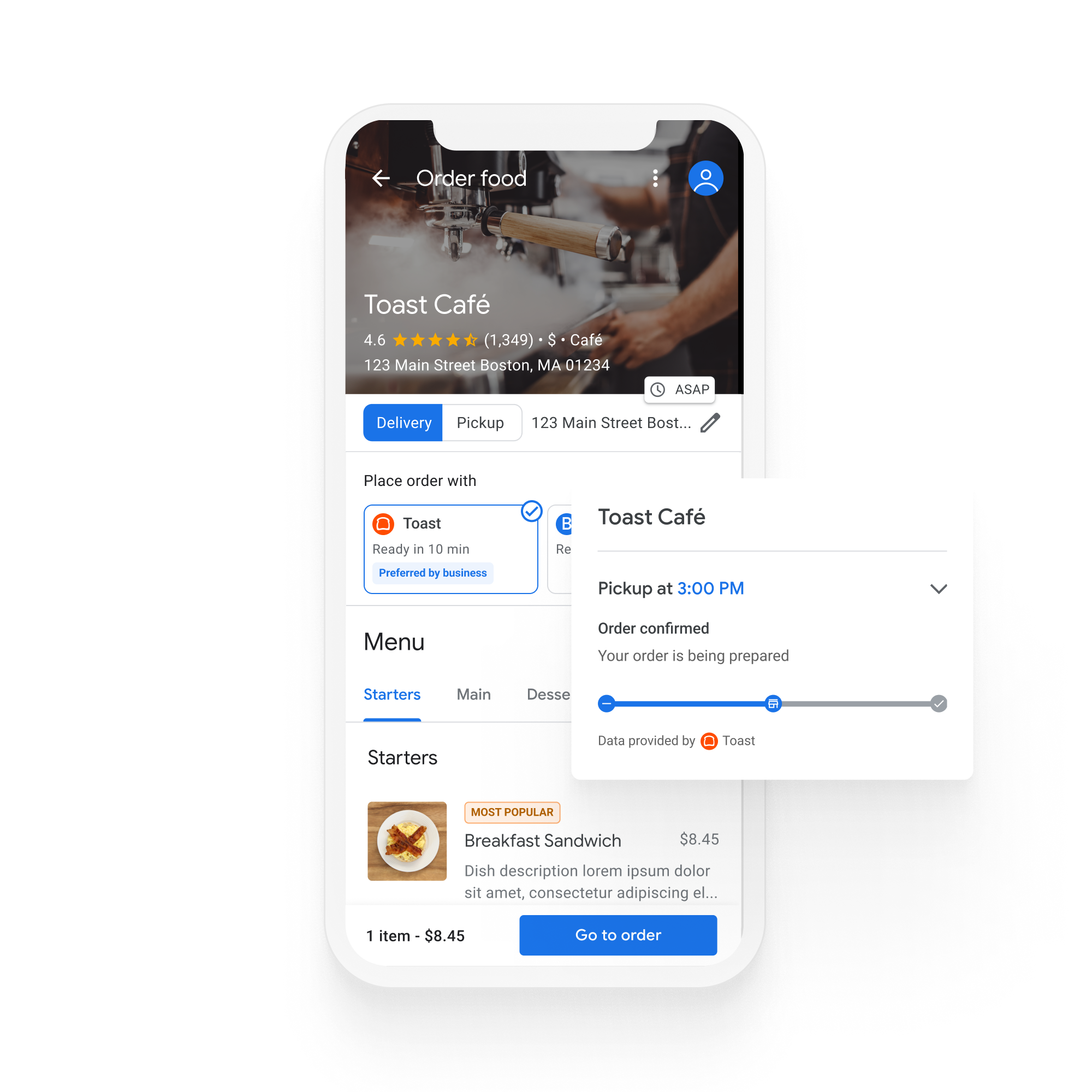 Expand your reach by tapping into millions of guests already ordering food through Google Search and Maps.
Designed for a seamless guest experience, so guests can easily find you, order from you, and pay in just a few taps.

Order with Google is fully integrated with Toast, so your menus, hours, and quote times automatically update on Google.
Our takeout & delivery solutions are powered by centralized tools to maximize your profits
Manage all your takeout and delivery orders from a single screen on the POS and unlock channel insights to understand how each channel contributes to your sales and margins.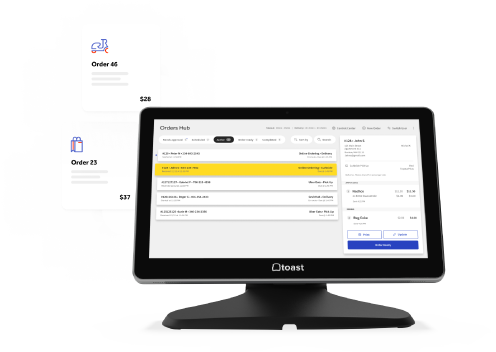 SUCCESS STORIES
Why Restaurateurs Choose Toast
"You have to pick a POS that allows you to expand beyond your restaurant's four walls. We had a reduction in our commissions last year which saved us almost $25,000. Moving that traffic away from third-party apps and focusing on that seamless experience with Toast is the way to go."

Shandor Collins
IT Director at Trapper's Sushi

"Without Toast, it would be much harder to do the volume we see at lunch. We might do 100 to 200 tickets over the course of a couple hours. Kitchen display screens have helped us achieve that level of service."

Brad Gillis
Co-Founder at Home Grown

"Customers who order through our Toast website receive faster service than those who order through a third-party site because it's connected directly to our kitchen. It takes 4 or 5 minutes longer per ticket if the order comes in through an external vendor."

Daniel Ganem
Co-Founder and Executive Chef at Zuuk Mediterranean Kitchen

Why Toast
The Point of Sale Platform Powering the Most Successful Restaurants
By requesting a demo, you agree to receive automated text messages from Toast. We'll handle your info according to our privacy statement. Additional information for California residents available here.